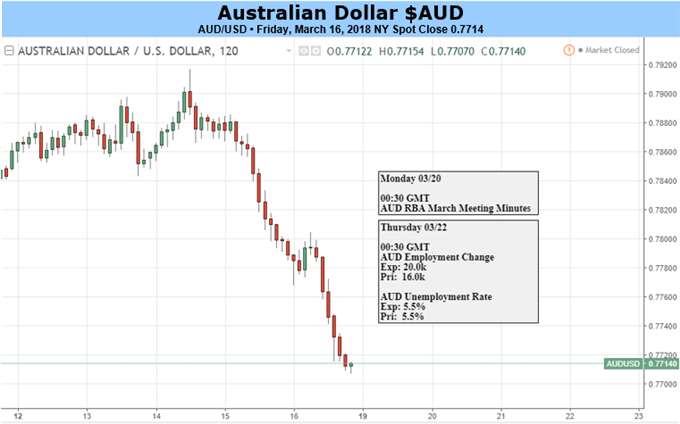 Australian Dollar[1] Fundamental Forecast: Neutral
The US Federal Reserve's monetary policy decision will be central for the Australian Dollar this week, of course

The Aussie appears to be starting the week under a bit of pressure
Find out just what makes the best traders stand out from the rest with DailyFX in-depth study of the Traits of Successful Traders[3]
The Australian Dollar is facing Big Thursday this week, as that's the day when the bulk of likely market-moving news will hit.
It's the same for all Asia Pacific currencies to some extent of course. For Thursday morning local time is when investors will learn whether the all-but universal expectation for another interest rate hike from the US Federal Reserve[4] has been met. Assuming that it is, focus will be on how many more such increases the Fed now foresees this year.
Markets are currently priced for another two, and the US Dollar has been known to slip on any suggestion that no more than that may be coming. So if the Fed just sticks with the status quo then there could be some knee-jerk downside for the greenback against the Aussie and much else.
Also coming up on Thursday are official employment data for Australia, which may cause some binary currency reaction depending on how they go. But they are unlikely to unseat the markets' settled view which is that any increase to the record low, 1.50% Official Cash Rate remains some way off. That message is likely to have been reinforced before the data by Monday's release of minutes from the Reserve Bank of Australia's last monetary policy meeting.
That meeting offered the markets nothing new[5], and it's hard to see why its minutes should either.
However, the Australian Dollar was hit last week by comments from Donald Trump's new chief economic advisor Larry Kudlow. He was unequivocal in his support of strong US Dollar- seemingly putting to bed any lingering worries about the Administration's commitment on this score. He also seemed to favor increased tariffs against China, telling CNBC that that country needed its 'comeuppance on trade.' This wasn't great news for the Aussie given its home nation's vast raw material export links with the world's second largest economy.
So, we have an Australian Dollar facing an interesting week under some initial pressure but, ironically perhaps, susceptible to gains if the Fed raises rates but fails to pile on the hawkish pressure in its prognosis.
The coming risks thus look quite balanced so it's a neutral call for the week. However, it comes against the broad backdrop of a weakening Aussie which has now been in place