Financial markets may turn their attention back to the Federal Reserve as critical economic data crosses the wires in the week ahead.
US Dollar[1] Forecast: Burning Coals and US Treasuries: USD Remains in the Fiscal Cross-Fire[2]
The US Dollar continues to struggle with strength; and next week brings inflation figures ahead of a widely-expected rate hike in the week after. Might this be the time that Dollar bulls finally get to run for more than a couple of weeks?
British Pound[3] Forecast: Beware of Volatility in a Data-Free Week[4]
Sterling continues to tread water as Brexit discussions continue with little in the way of market-moving UK data around. And next week the data calendar is bare, leaving Sterling at the whim of other currencies.
Japanese Yen[5] Forecast: Japanese Yen Vulnerable as Anxious Markets Find Relief[6]
The Japanese Yen may continue to retreat as market-wide sentiment improves and the Bank of Japan loudly asserts its dovish policy position.
Australian Dollar[7] Forecast: Australian Dollar May Leave Its US Cousin To Make The Weather[8]
The Australian Dollar will run up against a lack of big, domestic cues this week which will probably leave the US Dollar and global risk appetite very much in charge.
New Zealand Dollar[9] Forecast: New Zealand Dollar Looks to GDP Hype, US CPI & Trade Developments[10]
At home, the New Zealand Dollar is facing GDP data next week which the RBNZ has high hopes for. Meanwhile, the US CPI report and ongoing trade developments could boost volatility.
Chinese Yuan Forecast: Yuan Likely Continues to Consolidate amid NPC; China Still Looks to Avoid a Trade War[11]
China's NPC will decide top policymakers for monetary and fiscal policies in the coming days. At the same time, the country continues to take efforts to avoid a trade war with the U.S.
Crude Oil[12] Forecast: Crude Oil Bulls Turn Spotlight To Demand Ahead of Trade War Clarification[13]
Later this month, Crude Oil futures will begin trading in Yuan while details are still coming on Trump's tariff plan that some fear may spark a 'Trade War' as Oil internals start to weaken.
Equities Forecast: S&P 500 Starting to Flex its Muscles, DAX & FTSE Trying to Rally[14]
The calendar next week is light, focus will be on whether risk can continue to gain a bid; U.S. markets leading the way.
Gold Forecast: Gold Prices Struggle to Maintain March Gains- US CPI on Tap[15]
Gold price[16] action suggests that the early month low may have been technically significant. Here are the updated targets & invalidation levels that matter from here.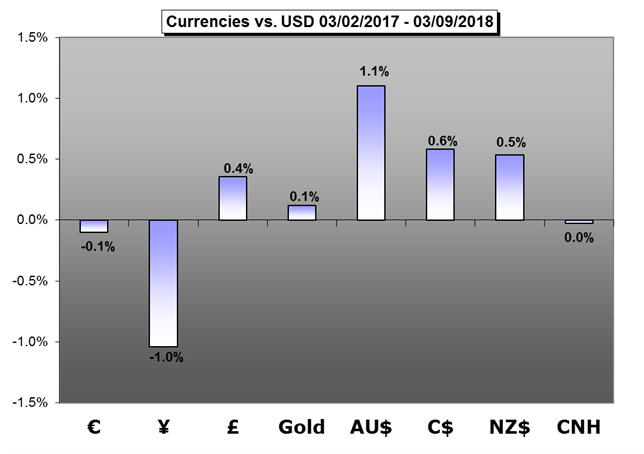 See what live