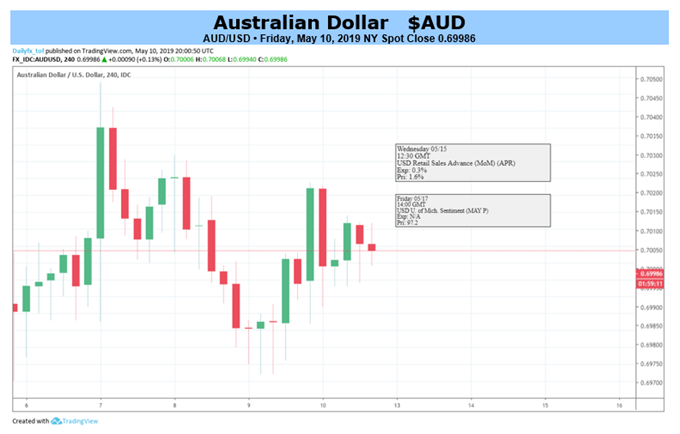 Fundamental Australian Dollar Forecast: Neutral
The RBA declined to cut rates last week
Futures markets still think it has merely delayed the inevitable
This week's labor market numbers will offer a steer
Find out what retail foreign exchange traders make of the Australian Dollar's prospects right now, in real time, at the DailyFX Sentiment Page[1]
The Australian Dollar[2] rose sharply last week when the Reserve Bank of Australia shocked at least some of the market by declining to lower interest rates[3].
It then sank back again in quite short order as risk appetite went into full reverse, with investors worrying about the chances of a trade deal between China and the US. Many saw an agreement as highly likely when May got started. It's still surely possible, but expectations have been reined in as rhetoric between Beijing and Washington[4] heats up.
Here then is a familiar Australian Dollar backdrop, with global risk appetite on one hand and domestic monetary policy on the other. Each will exert its pull in the coming week, probably overriding relatively minor Australian economic data releases such as the gauges of business and consumer confidence.
However, Wednesday will see the release of official employment figures. Given the very high relevance given by the RBA to this series when it comes to monetary policy settings, these are likely to make a mark on the Aussie however they go.
Strong numbers could well see the Australian Dollar make at least short-term gains.