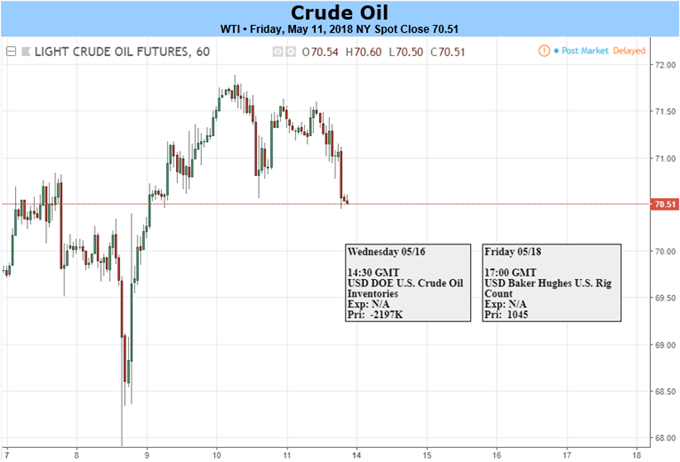 Fundamental Forecast for USOIL: Bullish
Talking Points:
The ONE Thing:

The crude bull train does not appear to be slowing down. Crude oil[1] has been on a historic run to recently tag the 100% Fibonacci expansion, but increasing demand and potential supply shocks favor further strengthening of the energy market.
Energy stocks show biggest S&P 500[2] contribution since 11/2014 and projections from quarterly earnings show what could amount to a near 5% gain to the index from the sector alone in the coming quarter as profit margins swell with WTI north of $70/bbl.

Per BHI, U.S. Oil Rig Count rises 10 rigs to 844, US total rig count up 13 to 1,045.

The technical analysis picture of Crude Oil clearly shows price trading above multiple forms of support. Key support comes from Tuesday's spike low that aligns with the 50% retracement of the 2014/2016 range at $67.56/bbl. Bullish targets are $77 for WTI and $82 for Brent.

IGCS shows net-short retail positioning in WTI - US Oil

[3]

, favoring bullish pressure
As crude oil booked another weekly gain on renewed Iran sanctions that helped breed supply shock concerns. Crude oil traded to the highest levels since November 2014 on both WTI & the global benchmark, Brent at $71.89 and $78/bbl respectively.
Higher for Longer? The Likely Reality for Crude
Early last month, I quoted the chief economist of the IEA who said crude bulls should be careful what they wish for because they just might get it. It is higher prices and looking down the swap curve through 2022 after Trump's withdraw from the Iran