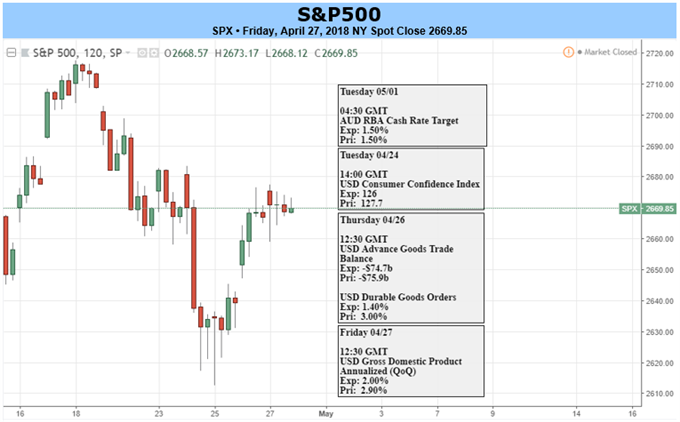 Talking Points:
Forecast for the S&P 500: Neutral
The Quarterly Forecast for the S&P 500[1] have just been released for Q2, Click here for full access to the DailyFX Q2 Forecasts[2].
Next week's economic calendar[3] brings an intense focus on to US-related items, and the breakout that took place in the US Dollar this week[4] will very much be in question. On top of a rather stacked macro-economic calendar, we're in the thick of earnings season and we'll see a number of big US names reporting next week: McDonalds reports on Monday, Apple reports on Tuesday and Tesla reports on Wednesday in what will be a widely-watched earnings call for signs of trouble at the auto/battery maker.
Earnings were fairly strong this week, led by a strong beat from Amazon. But, the net of that strength in earnings has been a simple doji in the S&P 500, further evidence that other factors are at work here[5]. This narrows the index further into the wedge pattern that's been building since early-February; highlighting the fact that a 'big' move may be on the horizon, in one direction or the other, as prices congest after a historically strong nine-year bull market.
S&P 500 Daily Chart: Narrowing/Congesting Price Action After Volatility Comes Back in Q1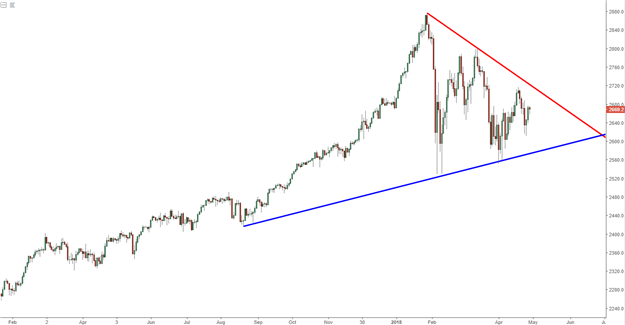 Chart prepared by James Stanley[6]
This congestion leaves the S&P in a rather neutral state on a longer-term basis. While that prior bullish trend has yet to reverse, an increase in volatility similar to what we've seen since early-February is often indicative of a shift in market behavior or mood; and as confirmation, the