FX TALKING POINTS:
- GBP/USD Snaps Monthly Opening Range Ahead of U.K. Gross Domestic Product (GDP) Report, More Bank of England (BoE) Rhetoric. .
- NZD/USD[1] Tumbles to Fresh 2018-Lows as U.S. Treasury Yields Grind Higher. Relative Strength Index (RSI) Flirts with Oversold Territory.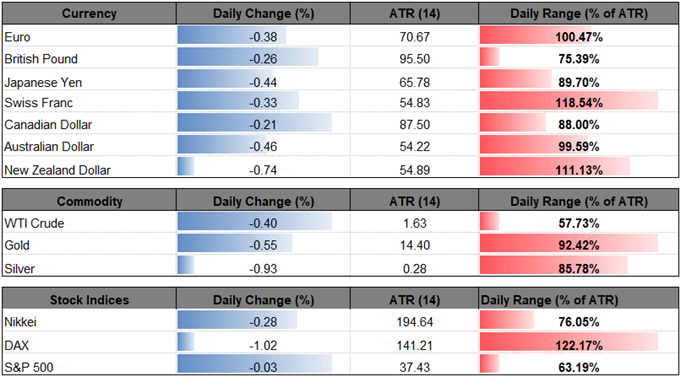 GBP/USD SNAPS MONTLY OPENING RANGE AHEAD OF U.K. GROSS DOMESTIC PRODUCT (GDP) REPORT. MORE BANK OF ENGLAND (BOE) RHETORIC ON TAP.

Fresh updates to the U.K. Gross Domestic Product (GDP) report may do little to halt the recent decline in the GBP/USD as the growth rate is expected to expand another annualized 1.4% during the first three-months of 2018, and comments from Bank of England (BoE) Governor Mark Carney may keep pound-dollar[2] under pressure as the central bank head is scheduled to speak at the end of the week.
Signs of tepid growth may dampen the appeal of British Pound[3] as it encourages the BoE to delay the hiking-cycle, and the central bank may merely attempt to buy more time at its next meeting on May 10 as 'developments regarding the United Kingdom's withdrawal from the European Union – and in particular the reaction of households, businesses and asset prices to them – remain the most significant influence on, and source of uncertainty about, the economic outlook.'
As a result, Governor Carney may strike a cautious tone even though Monetary Policy Committee (MPC) board member Michael Saunders states that his outlook 'reflected a preference for an earlier tightening path than implied by the market curve, and the new remarks may ultimately produce headwinds for the British Pound should the central bank head tame bets for