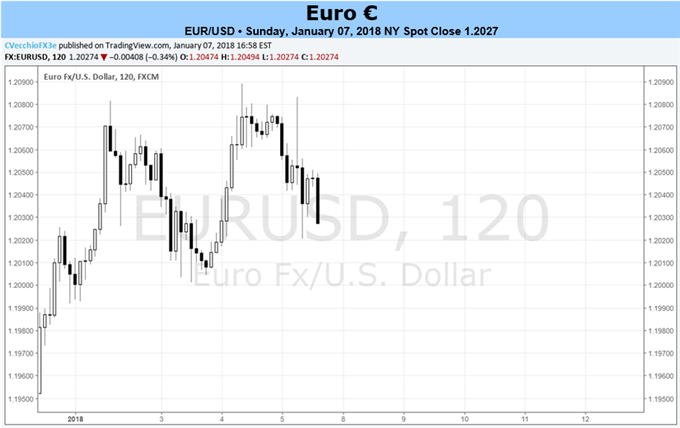 Fundamental Forecast for EUR/USD: Neutral
- Further Euro[1] gains will have to contend with an already supersaturated futures market, where net-long positions held by speculators hit an all-time high coming into 2018.
- The ECB won't be raising rates this year, and with its normalization process on autopilot, the Euro is without the central bank as a significant driver in the near-term.
- The IG Client Sentiment Index[2] suggests EUR/USD[3] could gain further in the coming days.
The Euro finished in the middle of the major currencies covered by DailyFX Research last week, shedding the most to the Canadian Dollar[4] (EUR/CAD -1.08%), and rallying the most versus the Japanese Yen[5] (EUR/JPY +0.52%). With the new MiFID II regulations coming into force, it would appear that European financial institutions are withholding the same volume of trading activity that normally comes with the start of a new year. Time will tell if lower volumes persist and if there are further knock-on effects to volatility.
Much like last week, when the economic calendar was not much of an influence on the Euro, the coming week is lacking both the quantity and quality of events to drive significant price action in the Euro. On Monday, November Euro-Zone Retail Sales are due and are expected to confirm improving consumption trends through Q4'17, suggesting a strong GDP reading could be coming down the pipeline at the end of January. On Tuesday, the November Euro-Zone Unemployment Rate is due to show the labor market will reach its strongest level since January 2009. Beyond these two reports, the account of the European Central Bank's December policy meeting on Thursday offers the best opportunity for event-driven price action.
Barring a sea change in economic data momentum, something unlikely to transpire this week given the economic calendar, it would appear that the Euro's current trajectory has little reason to be knocked off course. After all, given that they are following the Fed's playbook, the ECB won't be raising rates so long as they are continuing their QE program – which continue fully through at least the end of this year. The ripple effects are small, but important: if ECB policy is deemed to be on a set course for the next several months, it may mean price action around typically important releases like the CPI or PMI reports is dampened going forward.
Heading into the first full trading week of 2018, the Euro continues to have strong fundamentals supporting it. Economic data momentum has weakened but remains solid, with the Euro-Zone Citi Economic Surprise Index finishing Friday at +46.0, down from +49.3 the week prior, and lower than +60.1 a month ago (the decay appears to be a function of data rolling off the calendar and a lack of new releases over the past two weeks to replace